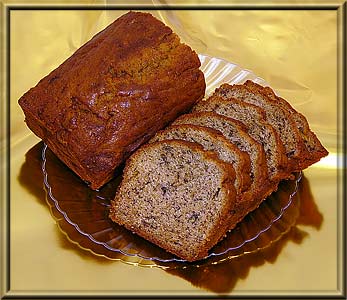 Sometimes, we wonder what to make with those overly ripe bananas sitting on the kitchen countertop for days. Well here's the answer – Banana Bread!
Banana bread is a sweet, moist cake-like bread that has mashed ripe bananas in it. It can be made with regular all purpose flour or whole wheat flour. Whole wheat flour is more nutritious than all purpose flour. It's rich in fiber, low in carbohydrates and has numerous advantages over white flour. So why not take a step towards a healthy life and make a whole wheat banana bread?
Here's a recipe for an ultimate banana nut bread that uses whole wheat flour and yet is delicious.
Ingredients:
1. Ripe bananas – 3 (use real ripe ones if you can)
2. Whole wheat flour – 2 cups
3. Sugar – 1 cup (you can reduce this if you want, depending on your dietary requirements)
4. Eggs – 2
5. Butter – 1 stick
6. Baking soda – 1 tsp
7. Baking powder – 1 tsp
8. Milk – 2 tbsp
9. Vanilla essence – 1 tsp
10. Chopped Walnuts/pecans – 3/4 cup(optional)
11. Cinnamon powder – 1 tsp
11. Salt – 1/2 tsp
Method:
1. Beat the butter and sugar until light and fluffy.
2. Beat in the eggs one at a time.
3. In another bowl, mash the bananas with a fork with milk, cinnamon powder and vanilla essence.
4. Add this to the butter mixture.
5. Combine the flour, baking soda, baking powder and salt.
6. Add to the wet mixture and combine well with a spatula.
7. Add the nuts. Mix well.
8. Pour the mixture into a buttered loaf pan and bake for about 1 hour and 10 minutes or till a toothpick inserted at the center comes out clean.
9. Slice and serve.
Enjoy this moist, delicious and very nutritious bread with your loved ones.
Reference:
1. Banana Banana Bread Recipe – Allrecipes.com
2. Banana Bread Recipe | SimplyRecipes.com