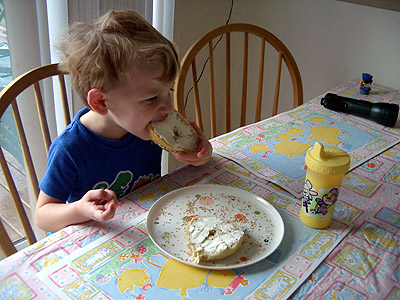 I love a good warm bagel just about any time but especially love them forbreakfast or as a mid-afternoon snack. Bagels are good, plain or with a whole range of different topping but I like to mix cream cheese with a fruit preserve to go on them best. Raspberry is my favorite or just cheese on an onion or herb bagel with a sprinkle of chopped chive or fresh spinach.
I used to have a neighbor who made her own bagels and they were wonderful. She usually gave me a half dozen when she made them and I appreciated it. She gave me her recipe and I have since made my own a few times but hers are better. Mine end up a little tough but they are still good. Maybe I'm kneading the dough to much. I'll keep practicing. Practice makes perfect, you know, but I may never make them as well as Cindy does. Here is how she makes them.
BAGELS
Dissolve
2 pkg. active dry yeast in
2 cups luke warm (110 degrees) water with
1 Tbsp. sugar
Set aside
Sift together in a large mixing bowl
1 1/2 cups whole wheat flour
1 cup white flour
1 1/2 tsp. salt
You may use other flours or all white but I prefer the combination of the two; whole wheat and the white. It makes a nice textured bagel.
Add the yeast mixture plus
2 Tbsp. Honey
Work the flour, honey and yeast mixture together adding just enough more sifted flour a little at a time to make a sticky dough. If you want to add raisins, onion or chive now is the time.
Add 2/3 cup seedless raisins, chopped dates or other chopped dried fruit
or 1/4 cup finely chopped onion or chives
Turn dough out on a floured board and knead until it becomes smooth and elastic. Place in a lightly greased bowl and cover to allow to rise to double its bulk, about two hours. Punch dough down and divide into 12 to 16 equal pieces. Shape each piece into a smooth ball and pat down making a hole in the center with a floured finger, pulling the dough back to make about a 1 inch hole in the center. Place the bagels on a lightly greased baking sheet, cover and let rise a second time for about 15-20 minutes. Place bagels under the broiler for just a few minutes about 5 inches from the heat, about 2 minutes on each side or until very lightly golden. While the bagels are broiling put a large kettle with about 4 quarts hot water on to boil over high heat. Once water comes to a full boil reduce to simmer. Remove bagels from broiler and set oven to 425 degrees. While oven is heating drop bagels in simmering water two or three at a time and simmer for 3 minutes on each side. Return to lightly greased baking sheet. (If you want to add sesame seeds now is the time to add them. Sprinkle bagels with seeds and lightly press into top of bagel.) When all bagels have been simmered and returned to sheet place in oven and bake for 20 to 25 minutes until done, golden brown. Remove from oven. Allow to cool on sheet for 7 to 10 minutes and remove to cooling rack to finish cooling. Serve warm or cold with your favorite toppings or bread dip.
I've had fun learning to make bagels and I think you will too. They are fun to make, though a bit time consuming so make it a project on a day free from other obligations. All totaled it takes about 3 to three and a half hours time to make a batch of bagels but it is so worth it and enjoying a bagel you made yourself just makes it taste all the better. I really enjoy a good bagel and the last ones I made were almost perfect. Maybe someday I'll get to make them as good as Cindy does.
Reference:
1. Peter Reinhart's Whole Wheat Bagels Recipe – NYT Cooking
2. Whole Wheat Bagels Recipe | King Arthur Flour